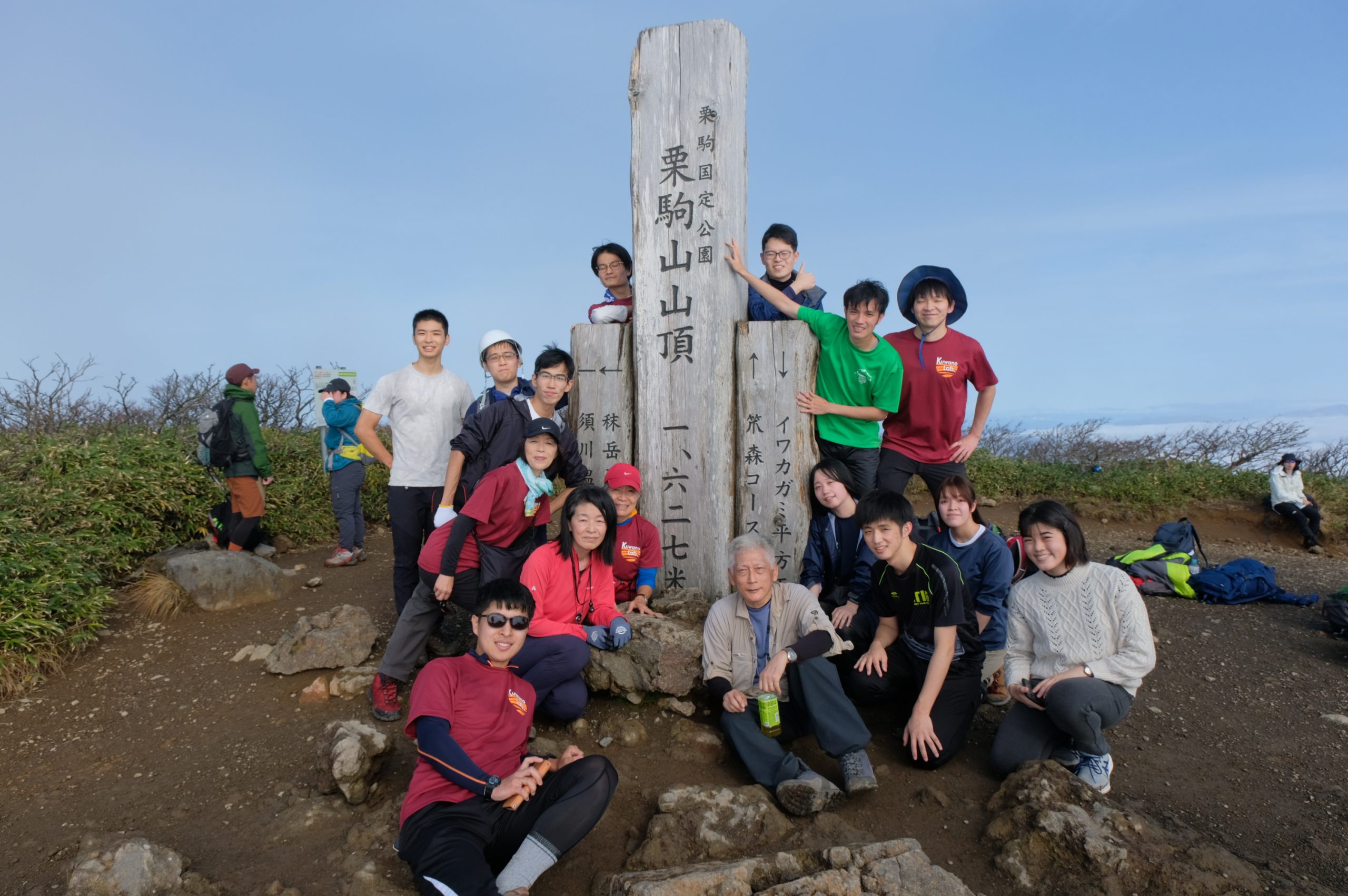 Go down on rocky terrain, pass a river, wade through grass, and cross a meadow. With the background of dressed Mt. Kurikoma, our adventure was about to start!
last week we climbed Mt. Kurikoma in Iwate pref with B3 students, SaitamaUniv students, and Fujiwara-san in TsukubaUniv.
Early in the morning we ride on the cars and drove for 7 hours to Mt. Kurikoma. At the service area on the way, Yokohama-san tried to eat a big meal. DIdn't he get sick of his stomach?
The group arrived at the Kurikoma Geopark. First, we listened to the museum staff talk about the massive landslide at the Mt. Kurikoma in 2008.
Then we went to the Aratozawa Dam. This was the site of one of the largest landslides in Japan, and the huge cliffs took our breath away. We actually touched the soil of the sliding layer and experienced the site of soil extraction.

On the second day, we went to the Dozozawa near the top of Mt. The time has finally come! We were greeted by the pleasant contrast of blue and yellow of Mt. The view was breathtaking and woke up the sleepy students who had woken up early. At the top, Mt. Chokai towered at the edge of the sea of clouds, inspiring Prof. Kuwano's passion for mountaineering.
After that, we went to Dozozawa. After a magnificent view of the longest landslide in Japan, we went out to investigate. We did in-situ shear test and collected undisturbed samples. On the way, Prof. Kuwano made us cup noodles and served them in between surveys.
It was an irreplaceable survey for B3 students and everyone who participated. And finally, the best thing was that all of us were able to come back safely without any injuries.
The adventure of Kuwano Lab has just begun! Don't miss it!